Samuel Dammann and Audrey Weckwerth Named Minnesota Poultry Prince & Princess® at 2019 State Fair
The scholarship program of Minnesota 4-H and Gold'n Plump® recognizes the industry knowledge, leadership and skills of Minnesota's up-and-coming poultry experts by awarding two teenagers with poultry ambassador titles and a $1,000 academic scholarship.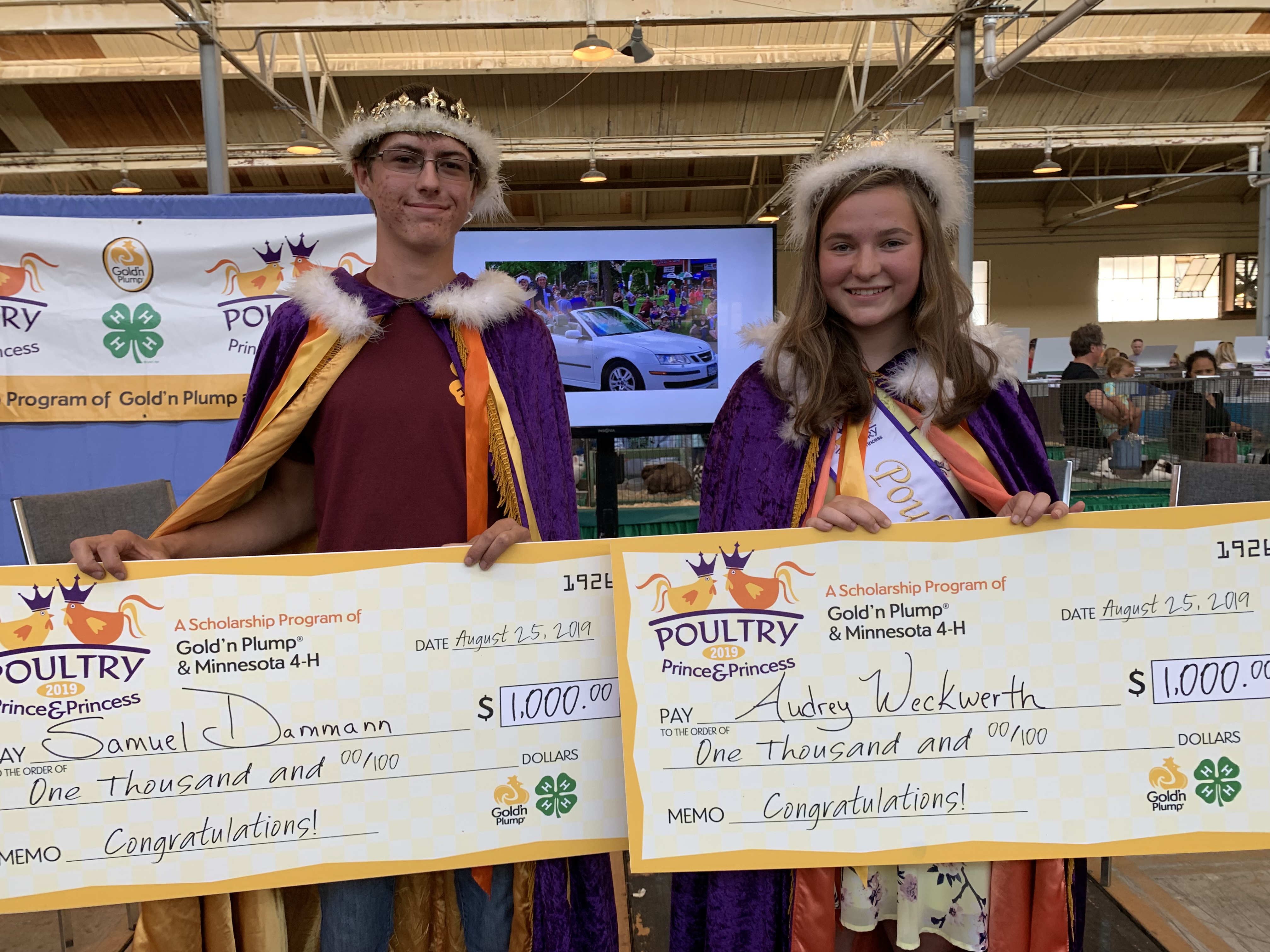 From Aug. 21-25, 2019, eligible Minnesota State Fair 4-H poultry participants competed in the contest at the State Fairgrounds.
Samuel and Audrey stood out among the contestants, claiming the title after ranking highly in the qualifying rounds of the 4-H poultry interview, quiz and showmanship competition; the 4-H chicken BBQ contest; and the Q&A and stage presence final round. Runners up included:
Grant Haferman of Goodhue County
Ruby Radunz of Meeker County
Cheylub Schmitt of Scott County
Jessica Waldron of Steele County
"I'm excited for this opportunity to be the Poultry Prince because it will help me further my career in the poultry industry and it will help me spread awareness," said Dammann. "It will also help me further the careers of younger kids who might not have this experience or understand what it's about."
"I'm excited to have won this opportunity because I have seen first-hand the opportunities that the Poultry Prince & Princess competition has given to past participants and from this opportunity I hope to gain leadership skills and communication skills and to use my platform to communicate successfully with the public," added Weckwerth.
Along with $1,000 scholarships, the Poultry Prince & Princess will have the opportunity to expand their speaking, interview and presentation skills through industry and public appearances during their year-long term. They also had the chance to participate alongside Minnesota 4-H in the State Fair parade on Sunday.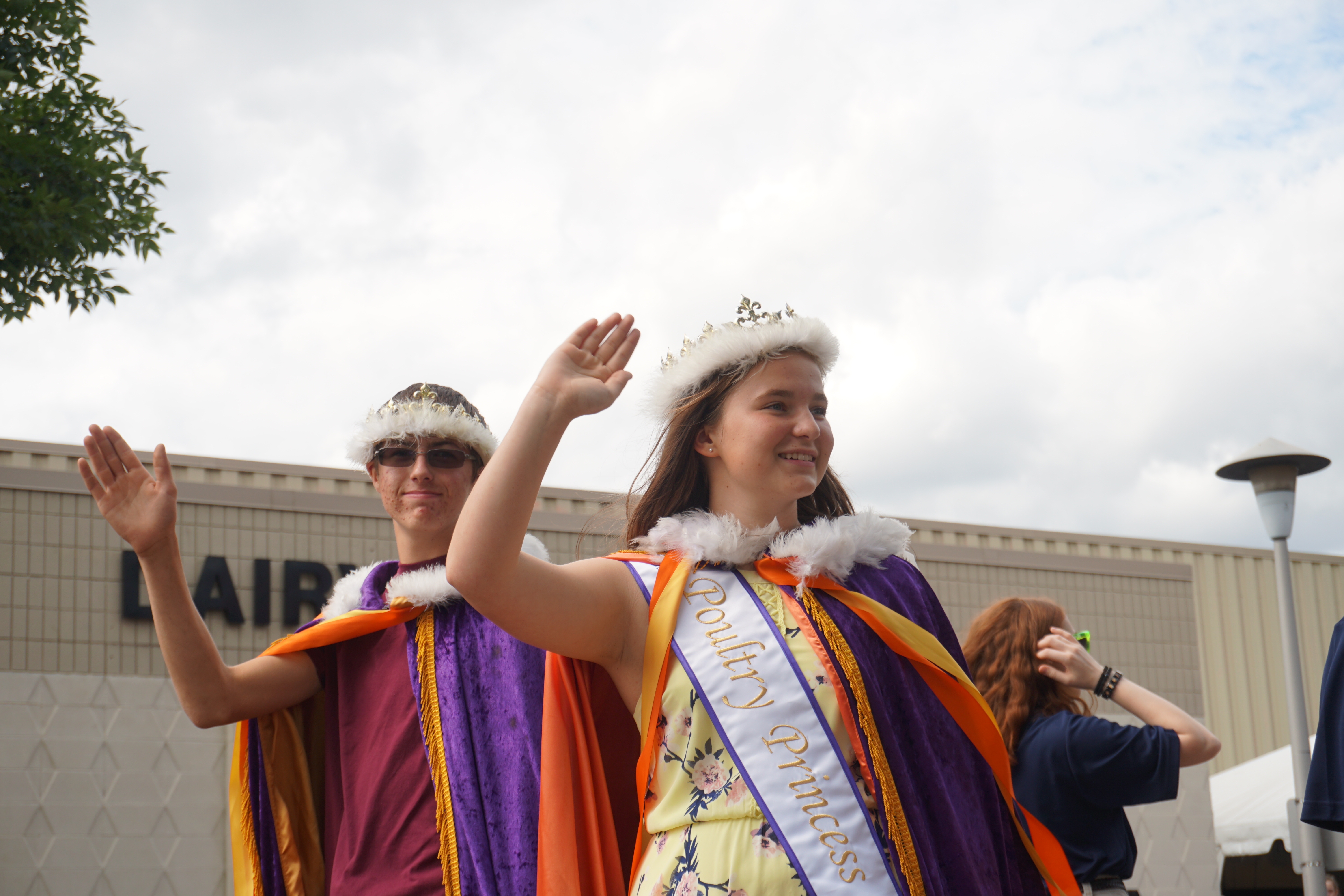 About Gold'n Plump® Chicken | Good Chicken is Our Mission® From family farms in Minnesota and Wisconsin to your family's table, Gold'n Plump® strives to provide wholesome, fresh, homegrown poultry products. Gold'n Plump chickens are raised with no antibiotics ever, American Humane Certified™, fed a vegetable and grain diet and cared for by some of the industry's top professionals. To learn more and stay connected, visit www.GoldnPlump.com and follow us on Facebook, Instagram and Pinterest.
About Extension 4-H
About Extension 4-H: 4-H is a youth development program of the University of Minnesota Extension. Available for youth in Kindergarten through one year after high school, 4-H'ers participate in hands-on learning experiences in STEM, leadership & civic engagement, animal science, creative arts and much more. In 4-H, youth grow essential life skills such as problem solving, decision making, coping and communicating that help them succeed in their school, college, community and career. Research shows that youth who participate in 4-H have better grades and are more emotionally engaged with school, are more than twice as likely to be civically active and contribute to their communities, and are 47% less likely to have risky or problem behaviors. Learn more at z.umn.edu/4h.
###